Ireland's best Comedy Festival returns to the medieval city bringing an exciting new programme and a great new creative partner in Sky.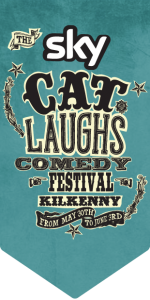 We're delighted to present the world premiere of series two of  Sky 1 HD's award-winning comedy, Moone Boy, in the company of its co-writers Chris O'Dowd and Kilkenny native Nick Vincent Murphy as well as some of its stars including David Rawle who plays Martin Moone. Scottish prodigy Kevin Bridges will perform some of his only live shows this year at the festival and for the first time there's a programme for kids and families in the atmospheric Rothe House. Comedy mastermind Dylan Moran returns to Kilkenny for the first time in eight years; we have the European debut of 30 Rock star Judah Friedlander; a one-off performance by Irish comedy pioneer, Kevin McAleer, entirely in the Irish language; and the
Masters series sees living legends Jimmy Cricket and Sil Fox show the young guns how it's done. Festival veteran Dom Irrera interviews fellow comedians in Uncle Dom's Fireside Chats in
the medieval Hole in the Wall tavern, which will also play host to the Wildcats emerging talent showcase and Simon Munnery's satire on modern gastronomy: La Concepta.
There are familiar favourites, prodigal returns and completely new experiences all to be soaked up at The Sky Cat Laughs 2013 in wonderful Kilkenny City.
Drink deep, eat well and laugh out loud responsibly.