The 'Then and Now' project used the local history collection available to libraries to create an exciting and unique Gathering Ireland 2013 invitation.
Kilkenny County Library Service has prepared a series of six such postcards featuring pictures of Kilkenny, past and present. The original postcards were published in the early 1900's and the 'now' photographs were taken from the same perspective last year. The postcards are available through library branches or by contacting your Gathering co-ordinator, Aisling Hayes.
The Bridge, Graiguenamanagh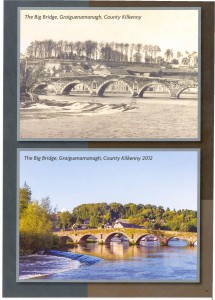 Designed by George Smith, the bridge crosses the River Barrow in the centre of Graiguenamanagh and was built in 1764-7. During the rebellion of 1798, British forces blew up some of the arches to close access to Kilkenny from County Carlow. It is one of several bridges rebuilt in Kilkenny following the great flood of 1763, including those in Thomastown, Inistioge, Castlecomer and Green's Bridge in Kilkenny.
High Street, Kilkenny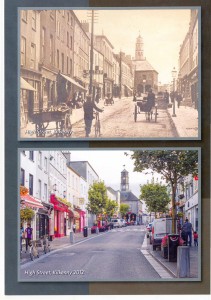 Dominated by the Tholsel building, high street is at the heart of Kilkenny City. Originally constructed in 1579, the Tholsel was extended in 1761. It has in the past been used as a customs house, a guildhall and a courthouse, and is currently in use as the town hall. It also stores the 'Liber Primus Kilkenniensis' which  contains records of decisions taken from 1231. High Street is also well known for the medieval lanes, or 'slips' which run down to Kieran street to the east.
John's Quay, Kilkenny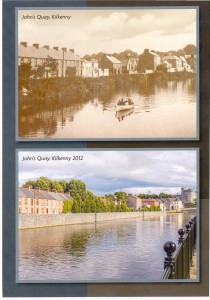 The River Nore runs for 140km, from Devil's Bit Mountain in north Tipperary, through Counties Laois and Kilkenny, to the sea at Waterford Harbour.  The Nore has played a central part in the history of Kilkenny and with the Rivers Barrow and Suir, forms the '3 Sisters'. Major tributaries of the Nore include the Dinin, the Breagagh at Kilkenny City, the King's River, the Little Arrigle and the Black Water. The Nore is crossed at Ballyragget, Bennettsbridge, Thomastown, Inistioge and Kilkenny City.
Bessborough House, Piltown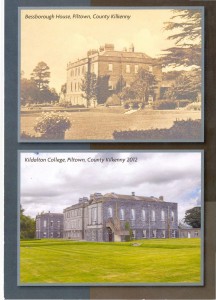 Built in the mid 18th century for Brabazon Ponsonby (1679-1768), the first Earl of Bessborough, Bessborough House was burned during the Civil War. It was reconstructed in 1929 and used as a convent until 1944, when it became the home of Kildalton Agricultural College.
Church Road, Johnstown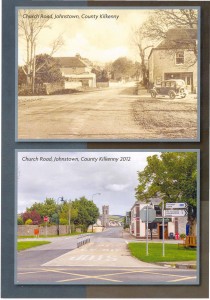 The  village of Johnstown features an attractive diamond at its centre. The nearby Spa Well at Ballyspellan was celebrated in verse by the great Johnathan Swift after a visit in the 1700's. Check out Johnstown Historical Society's facebook site for lots of archive photographs at http://ow.ly/jFrtr
The Square, Castlecomer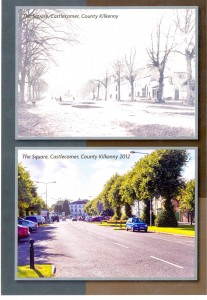 The market square and street layout of modern Castlecomer date to the 1630's when the Wandesford family began construction of the present town near the location of the Norman castle.  Coal mining began in earnest in the area around 1640, and the mines remained open until 1969, providing employment for many in the surrounding area.